A womans hips, without doubt, are an integral part of her feminine charm. By far curvier than a mans hips, women have always loved showing off their feminine grace by embellishing the area and drawing attention, albeit in a fashionable way. From accessories to skinny jeans, women have always tried to highlight the curves of their hips. No wonder then that it is also the perfect canvas to show off some innovative tattoo art.
These top 10 tattoo designs on hips are not only beautiful they also help accentuate the beauty of your waistline. Have a peek.
1. Chekaty Tattoo:
This hip tattoo simply says Chekaty which in Ukrainian means to wait or be patient. Make a note of how the bold, black and ornate letters cover a substantial portion of the hips or the lower back. This tattoo is just an example of how you can use power words as tattoos on the hips.
2. Lotus tattoo: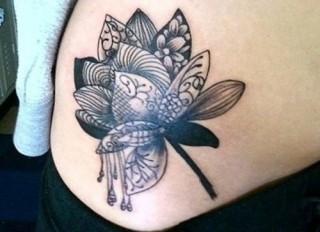 Lotus flowers are known for their symbolic value in many cultures and religions. It mostly symbolizes purification and enlightenment of the soul and has great symbolic and aesthetic value.
3. Dragon Tattoo:
This dragon tattoo starts from the hips and goes right down to the thighs. Dragons symbolize power, protection and fierceness hence this tattoo should effectively help you flaunt these positive qualities.
[Read:Megan Fox Tattoos]
4. Feather Tattoo: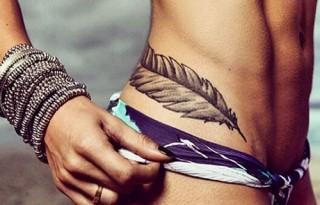 This feather tattoo should effectively enhance the aesthetic value of a slim waistline. Make a note of the effective shading and the attention to minute details that accentuates this piece of art. Whilst having this tattoo replicated by an experienced tattoo artist, bear in mind the need to stay true to the concept as depicted here.
5. Follow Your Dreams: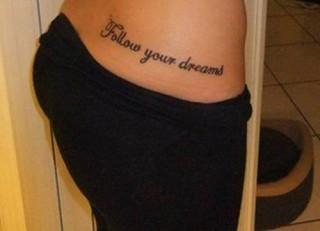 This simple yet inspiring tattoo on the hips simply says Follow your Dreams. This tattoo apparently has universal appeal as this simple message is for one and all. Have this inked on your skin and let this be the mantra of your life.
6. Vivera Liberamente: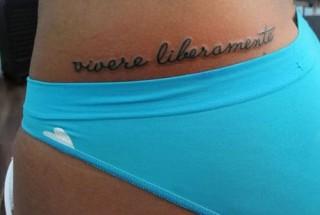 This hip tattoo in Italian simply says Vivera Liberamente which means live free. If you are the kind of person that cherishes freedom and independence then this is the perfect hip tattoo for you. Have this replicated on your hips by an experienced tattoo artist.
[Read:Masonic Tattoos]
7. Heart Shaped Power Words: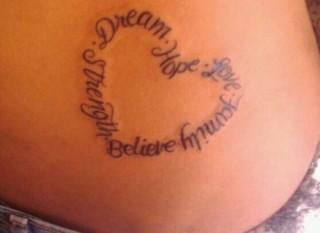 This innovative tattoo strategically places a bunch of power words to make it resemble a heart. Believe, hope, love, strength and family, this tattoo has it all. Have this inked on your skin for its aesthetic and inspirational value.
8. Rose Hip: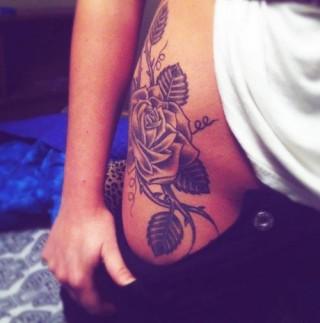 Roses have, for long, been a popular inspiration for tattoo art with a feminine touch. This rose tattoo stands out for its brilliant shading work and the attention to the smallest details. Make a note of the delicate tendrils and the jagged thorns on this tattoo. Roses have great inspirational value too as they symbolize beauty, love and passion.
[Read:Tongue Tattoos]
9. Birds in Flight: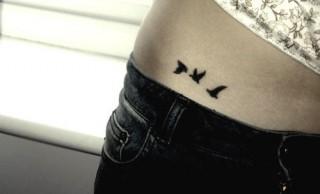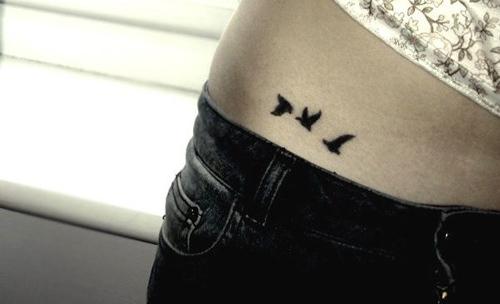 If you are looking for a tattoo for your hips that is subtle and small, yet attractive, this is the perfect find for you. This tattoo simply depicts the dark silhouettes of birds in flight. It clearly symbolizes freedom and has both aesthetic and inspirational value.
10. Butterfly: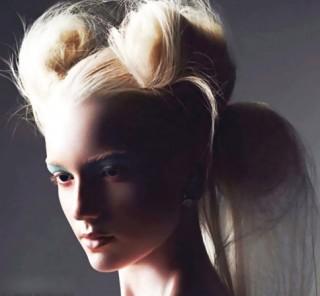 This tattoo for the hips depicts an attractive and colorful butterfly in vibrant shades of purple, yellow and black. Butterflies are common motifs in tattoo art and the artist here uses the butterfly motif to create a tattoo that is attractive and colorful, yet subtle.
[ Read: Butterfly Tattoo Designs ]
Which one of these tattoo designs for women on hip has become your favorite? Do leave us a comment!
Image source: 1 , 2 , 3 , 4 , 5 , 6 , 7 , 8 , 9 , 10
If You Enjoyed This Post, Sign Up For Newsletter
(And get your daily dose of Beauty & Wellness tips straight to your inbox)
The following two tabs change content below.
Latest posts by Shruti Goenka
(see all)
Hi I am very passionate about makeup, fashion and health related topics, I always had a soft corner for makeup and beauty. I believe makeup has the power to enhance features and can turn flaws into strengths. Makeup keeps me busy and yet it gives me the opportunity to follow my passion.