Tattoo is a spectacular form of body art that people around the world have been practicing for ages. It gives a completely different meaning to your whole look and adds a touch of style to your personality which stays forever. Tattoo trends have gradually become mainstream which are gaining momentum day by day. Every day new techniques and themes are introduced in to the world of tattoos. There are different types of tattoos and each carries a different and special meaning.
Tattoo design for girls range from cute to fun, beautiful to sexy, Celtic to contemporary. There are many popular designs for women; hearts, butterflies, dragonflies, religious symbols, sun and the moon. Apart from these small and cute tattoos, unique tattoo ideas make you stand out of the crowd. These tattoos have exquisite details and pattern which make them unique. There is a wide variety of unique tattoo designs for women and each has a specific meaning attached to it. Scroll down to find some of the most unique tattoo designs for women.
Egyptian tattoo designs: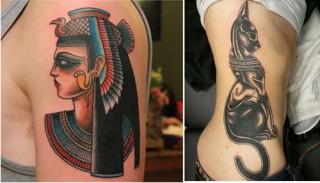 Egyptian tattoo designs are unique in their own sense as they are taken directly from the art and culture of ancient Egypt. Women usually get this tattoo to show their respect for the long standing tradition and history of Egypt. These tattoo designs include symbols, writings, and idols of the golden age of Egyptian civilization. The common designs include the Ankh which represents eternal life and happiness. Egyptian tattoo are very expressive and every design has a story behind it. So, do your own research before going ahead with this form of designs.
Candy tattoo designs: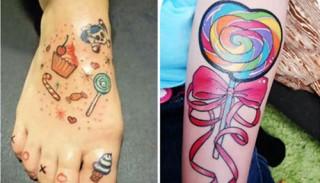 Candy tattoos look really sweet and fun. These girls tattoo designs are quite uncommon. They reveal the fun, sassy and cute side of your personality. Choosing the right tattoo will surely grab every lookers eyeballs. Bright and vibrant colors are used for creating this tattoo. Cupcakes are the hot favorite among all candy tattoo designs, which reveals your sweeter side. These tattoos can be etched anywhere on your body.
Eye tattoo design: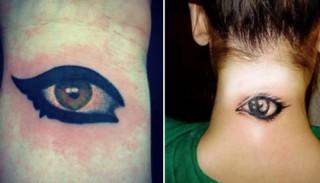 The idea behind eye tattoos came from the ancient tribal culture. The tribal people used to paint their eyes, forehead or shoulders to warn their prey that there is no chance of escaping. This tattoo is also considered as a symbol of protection. While going for eye tattoo, choose the brows carefully. V between the eyes gives an angry expression whereas C around the eye says that you are curious. This one of the girl tattoo designs can we used an ultimate expression of your core emotional state.
Key tattoo designs: 
Key tattoos are cool designs for girls to exhibit their personality without the need of uttering a single word. Key tattoos symbolize the ability to open and close doors of their life and heart. It also signifies that the wearer has the ability to control their destiny. Key tattoo is a great way to demonstrate their love for their beloved. The designs used for key tattoo are mainly done in Victorian or traditional style. You can choose the size of the tattoo depending upon your choice and can be placed on the nape, feet or back. You can also combine the tattoo with a lock to give it a unique look.
Pin up girl tattoo design: 
The term pin up was coined in the era of 40s during the World War 2, when posters of the female stars were put up to exhibit sensuality. Pin up tattoo are great designs for women to show female empowerment and sensuality. Most pin up tattoos is illustrations of a real or fictional character with sensualized features dressed in skimpy clothes.
Shark tattoo design: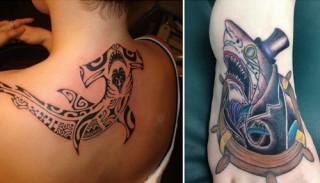 Women mostly opt for dolphin tattoos to show their demure side. Shark tattoos are quite uncommon and are a perfect choice to represent their fearlessness and bravery in the face of danger. Shark tattoo symbolizes tenacity and a courageous spirit. There are different types of shark tattoos tribal shark designs, lifelike or cartoonish in style which looks amazing on a curvaceous womans body. These tattoos are made mostly in black and grey shades and look quite intimidating. The ones in natural colour make it more realistic and scary and the larger ones with huge teeth are strange looking.
Grim Reaper tattoo design: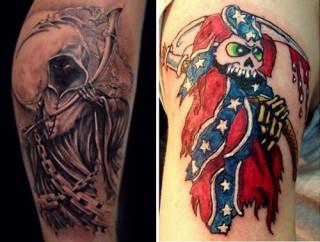 Grim Reaper tattoos are associated with death and represent the dark side. This skeleton with a dark robe and a hood over his head carrying a sickle is a very daunting and menacing design. Certainly this tattoo design is quite uncommon. People also add the picture of their own face or a close friend who has passed away underneath to give a different look to the tattoo.
Geisha tattoo design: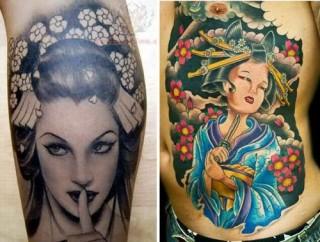 This sensual and extremely feminine tattoo represents a womens desire to escape the trappings of everyday life. Geisha tattoos are based on the design of a Japanese Doll with her hair up. Usually bright colors with rich pigmentation are used for this tattoo design. Combining images of cherry blossoms, peaches, fans and robes adds up to the glam quotient. Geisha tattoos are very imaginative and are an elegant and sexy tattoo designs.
Evil tattoo designs: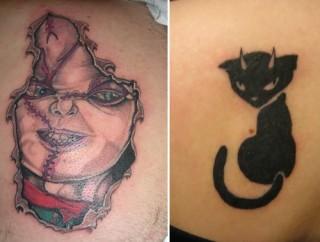 Evil tattoo designs are derived from demonic, abominable and scary pictures and art. Girls with mischievous personality like to get their body inked with this tattoo design to show the onlookers some of their most undesirable traits.  Evil tattoos depict satanic power, devilish deeds, blood, gore, pain and suffering. They also depict strength and menace. Simple plain texts and words are also used to show the evil side.
Bracelet/ anklet tattoo design: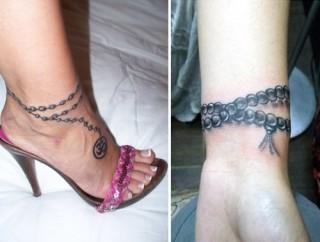 Why buy an expensive new bracelet when you can get a permanent one inked on your hands/ feet? Bracelet tattoos comes in a variety of designs and patterns and gives an expression of a persons individuality. Chains and lockets are the most popular ones. Bracelet tattoo is placed mainly around the ankles or wrist. Bracelet tattoos will electrify the onlooker with utter amazement.
Bear tattoo design: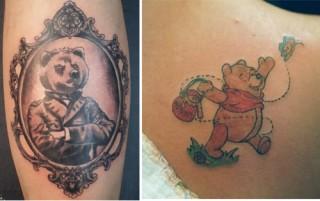 Bear tattoo symbolizes strength, tenderness and kindred spirit of women. The most popular bear tattoo design is depiction of Winnie the pooh. Having a tiny teddy bear with a cute expression and round ears inked on a part of the body gives warm and fuzzy feelings. Bear tattoos can be combined with many other images like flowers or hearts and at times butterflies as well. Bear tattoos are quite flexible and can be stationed anywhere on the body.
White ink tattoo design: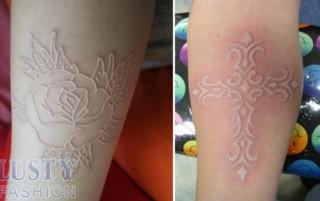 Tattoos are mainly done in black, blue and other colorful inks. But recently white tattoos have gained immense popularity. A white ink tattoo is not as prominent and visible as black or colorful tattoos. It is favored by women who like their tattoos design to be subtle and feminine.
Wings tattoo design: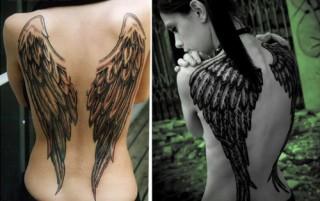 Wings often symbolize alacrity which represents independence and hope. The wings tattoos give a feeling of magnificence, peacefulness and comfort. Wing tattoos are considered as a symbol of piety and have an angelic and supernatural beauty and pureness in them. Women have an array of wing tattoo designs to choose from and can be combined with halos, crosses, letters, heart or animals. The best wing tattoo design is the tattoo placed on the shoulder blades stretched downwards toward the lower back. This design is usually inked in black. Angel wings come in many colors and patterns.
Vampire tattoo: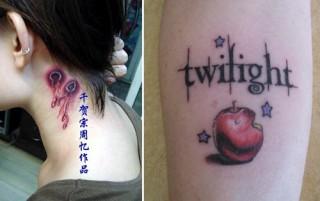 Vampire tattoos have gained popularity due to all the movies and TV shows based on them. Vampire tattoo represents power, lust, desire and of course everlasting life. The most common vampire tattoo designs are the images of Dracula, Dracula bite, howling wolves, full moon and image of Bella and Edward from the movie Twilight. Usually people with a deep fascination with these mysterious beings and the myth surrounding them get themselves inked with these tattoos.
Leopard print tattoos design: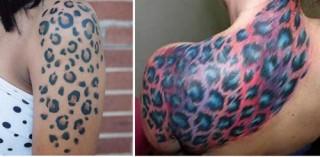 Leopard print tattoo looks markedly distinct from other tattoo designs. A leopard print tattoo is often inked in a realistic design to recreate the look of the animal or simple black spots. This tattoo design stands for power, ferocity and passion.
Frog tattoo designs: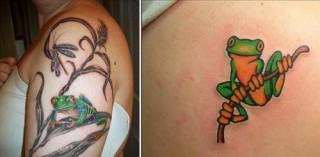 Frog tattoo design reminds of a fairytale where the girls dream partner comes to meet her in the disguise of a frog.  Frog tattoo design symbolizes a woman who is searching for love. Frog tattoo designs come in a variety of designs and is usually done up in conjunction with any other larger designs. A frog tattoo is believed to bring luck, wealth and fortune.
Ribbon tattoo design: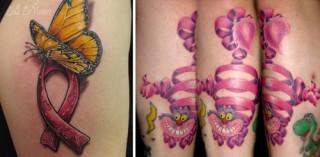 Ribbon tattoos look very girly and cute and bring out the inner charm and sweetness of women. Ribbon tattoos can be made into some really interesting designs. The colors used in these tattoos play a very critical role and have some sort of meaning attached to it. Pink ribbon ones have a connection to breast cancer, red ribbon signifies women battling with diseases, yellow ribbon is usually inked to support the people who suffer from heart diseases whereas white shows the pledge against women violence. Bow tattoos with a white highlight give a realistic design. These tattoos are quite uncommon and are placed behind the ear or upper thighs.
Tree tattoo design: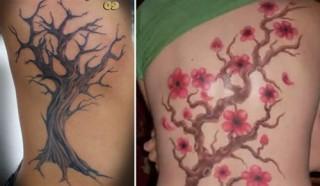 Tree tattoo designs have a sense of mysticism and beauty in them and are believed to be symbols of strength, detachment, wisdom and life. Tree tattoos add an artistic look to the body. Trees mainly used for these tattoo designs are oak tree and cherry blossom tree. These tattoos are designed in dark shades of green and brown with branches stretching outwards and roots intermingling with each other. Stunning landscapes are also added to give a deeper meaning to the tattoo. The best place to get tree tattoo is the ribcage or back.
Clown tattoos design: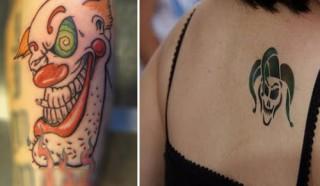 Clown tattoos are one of the most uncommon tattoo designs for women. Clown tattoos symbolize humor and a playful light hearted spirit. Jester or joker is the most common depiction of a clown tattoo. These tattoos are generally drawn in a playing card or a joker costume with a pointed hat and long toed shoe. There are two distinctive tattoo styles, a funny, playful and innocent clown or the evil clown.
Biomechanical tattoos design: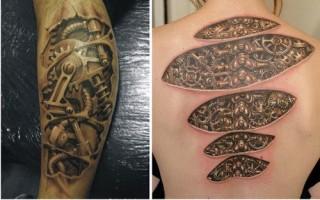 Biomechanical tattoo designs are representation of close affinity between the man and machine. These tattoos represent connection with machines and the belief in future technology. Biomechanical tattoos are a new tattoo design which is slowly gaining popularity. Most of them are in 3D and it is the most difficult design to ink. These designs are mainly inspired by movies like Terminator or the Alien series. Deep, rich colors are used and the tattoo appears so real that it seems that a person has a mechanical trait.
Bunny Rabbit tattoo design: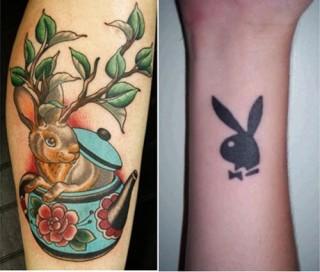 Bunny rabbit tattoo ranges from cute to sexy to exotic. A bunny rabbit tattoo shows a womans intelligence, athleticism and friendliness. Bunny rabbit tattoos always have a place on a womans canvas. This furry creature is a very eye catching design which displays many emotions. Variety of colors is used for this tattoo design.
Abstract tattoo design: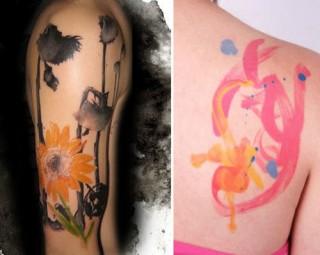 An abstract tattoo design represents a physical item, animal, place or a person. These tattoos can also be used to express the feelings and emotions of an individual. These tattoos are a replica of abstract painting and the colors and shape used in this tattoo defines the idea within a painting.
Diamond tattoo designs: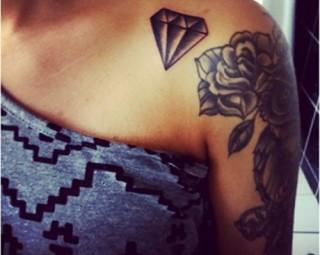 Diamond tattoo designs look stunning on any part of the body and exhibit a side of our personality. Diamond tattoo can be combined with a skull, flower, weapons, money, rings and exotic colors to make it look more beautiful and attractive. Diamond tattoos are a symbol of extravagance and symbolize everlasting love through marriage. Despite being a simplistic design, a diamond tattoo can be made very elaborative and detail oriented. You can also get yourself inked with 3D images of diamond which are great eyeball grabbers. The most popular places for diamond tattoos are ankle, fingers and shoulders.
Cosmetic tattoo:
Cosmetics tattoos are also trending these days. Cosmetic tattoo are permanent tattoo used to enhance the natural facial features which makes the natural feature more alluring and attractive than before by rectifying minor imperfections.
Eyeliner tattoo: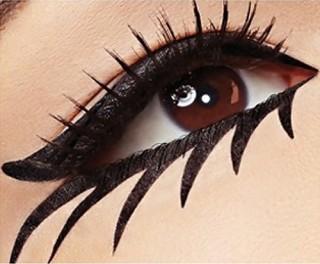 Eyeliner tattoo is often inked by women to give permanent definition to their eyes. It enhances the look of the eyes by giving a defined shape. You can get this tattoo done in a single ink like black or brown or can even use multi colored ink to jazz up the look. The con with eyeliner tattoo is that colour fades with time.
Eyebrow tattoo design: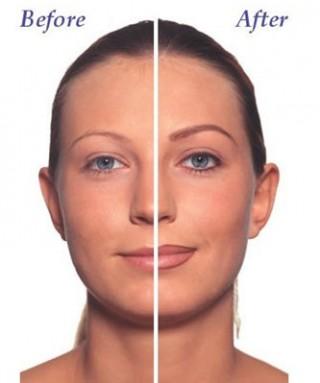 Eye brow tattoos are for those people who have a thin or sparse eyebrow, or are experiencing thinning or fading of eyebrows. Eyebrow tattoos can be a great alternative to fill up those gaps in the eyebrow. Choose the ink according to the colour of your eyebrow hair and you can decide for the thickness and permanency of the tattoo.
Lipstick tattoo design: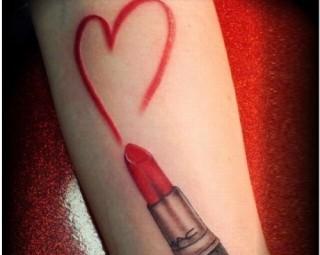 This tattoo design is for all lipstick lovers. Get the addiction inked on the body.
Baby footprint design: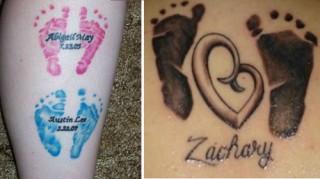 Keeping with the current fashion trends, expectant mothers or new mothers often get inked a baby footprint tattoo on their body. The baby footprint tattoo consists of the footprint of the baby and is designed exactly how the new borns footprints are at the time of his/her birth. The design is simple and is mostly done in black ink. You can also combine the name of the baby or the birth date with the footprint tattoo to give it a unique look.
Hope you liked these popular tattoos designs for girls! Dont forget to leave us a comment.
Image Source: 1 , 2 , 3 , 4 , 5 , 6 , 7 , 8 , 9 , 10 , 11 , 12 , 13 , 14 , 15 , 16 , 17 , 18 , 19 , 20 , 21 , 22 , 23 , 24 , 25 , 26 , 27 , 28 , 29 , 30 , 31 , 32 , 33 , 34 , 35 , 36 , 37 , 38 , 39 , 40 , 41 , 42 , 43 , 44 , 45 , 46 , 47 , 48 , 49 , 50
If You Enjoyed This Post, Sign Up For Newsletter
(And get your daily dose of Beauty & Wellness tips straight to your inbox)
The following two tabs change content below.
Latest posts by Arshi Ahmed
(see all)
I'm Arshi who loves makeup, fashion and cars. Writing is my comfort!!! I love learning new languages. Gardening and cooking are my passions. I love to write articles which would simplify people's life.I go crazy when it rains and find fun in getting drenced. Life to me is a cup of coffee you need to blend all the ingradients in right proportions, Hope my posts are helpful!!! stay positive and keep smiling !!